The Future Insurance Claims Process: Innovative, Efficient, Customer Centric
Connected Claims USA is an unmissable opportunity to gain invaluable insights on the disruption in insurance and uncover strategies to fully utilise the ever-increasing analytics capabilities available to insurers.
Complete your details in the box on the right and receive the conference brochure:

Cutting Edge Industry Case Studies: Uncover the key issues and opportunities for claims to be transformed in your organisation, and how to achieve an efficient claims process that delivers a superior customer experience


150+ Executive Attendees: Discover the senior leaders who will be joining the ONLY event to focus exclusively on bringing claims to the next level in the digital age


How to do business on site- get a sneak preview of the awesome networking activities from roundtables, workshops and drinks parties!
Enter your details on the right to get sent the event brochure which includes the full event details >>>>
Leading Industry Speakers Confirmed to Present: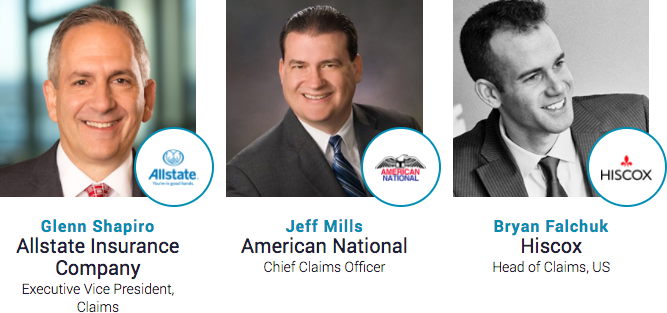 Enter your details on the right to get sent the event brochure which includes the full speaker line-up >>>>
Key Themes on the Agenda:
Uncover the latest innovations in insurance claims and identify opportunities to gain a competitive advantage, from a superior customer experience to cost cutting


Place the customer at the heart of a consistent, seamless claims process: empower customer communication and enrich customer experience to enable greater customer loyalty and engagement


Automation of claims processes including claims assessment, adjustment, fraud identification and payment using artificial intelligence and advanced analytics


Resolve claims quicker with more information: Gain a complete view of the customer utilising multiple data sources across platforms including photo, audio and video


Gain a competitive advantage through leveraging technology that: enables faster, more accurate claims resolution, reduces the strain on resources and personnel and delivers return on investment

To get sent the full agenda including a breakdown of each session, enter your details on the right to get sent the event brochure >>>>

Bringing Together Claims and Operations Leaders from Across Business Lines:

Connected Claims USA is a summit that's relevant across business lines and is a must-attend event for those charged with transforming claims, including responsibility for customer experience, operational efficiency, technology and claims processing:

C-Level: Chief Claims Officer, Chief Operating Officer, Chief Information Officer, Chief Customer Officer, Chief Technology Officer, Chief Data Officer, Chief Analytics Officer


Claims: SVP Claims, VP Claims, VP Claims Operations, VP Claims Automation, VP Claims Handling


Technology: SVP IoT, VP IoT, Head of Wearables, Head of Innovation, Head of Process Automation, Head of Analytics, VP Drones, Head of Data


Operations: VP Operational Efficiency, Head of Process Automation


Customer: SVP Customer Service, VP Customer Contact, VP Customer Experience

To get sent a breakdown of who will attend, enter your details on the right to get sent the event brochure >>>>

I hope you can join us in Chicago!


Kind regards,


Emma



Emma Sheard
Head of Strategy
Insurance Nexus
T: +44 (0) 207 422 4349
E: emma.sheard@insurancenexus.com
Insurance Nexus is part of FC Business Intelligence Ltd. FC Business Intelligence Ltd is a registered company in England and Wales. Registered number 04388971, 7-9 Fashion Street, London, E1 6PX, UK

Insurance Nexus is the central hub for insurance executives. Through in-depth industry analysis, targeted research, niche events and quality content, we provide the industry with a platform to network, discuss, learn and shape the future of the insurance industry.


Request the Connected Claims USA brochure:

Complete your details below to request the full 8 page event brochure pdf, which includes:
Full speaker line-up and who you will meet
The complete agenda and key themes to be discussed
Networking opportunities throughout the two days
Information on registration discounts and pricing
Exclusive Discount off Registration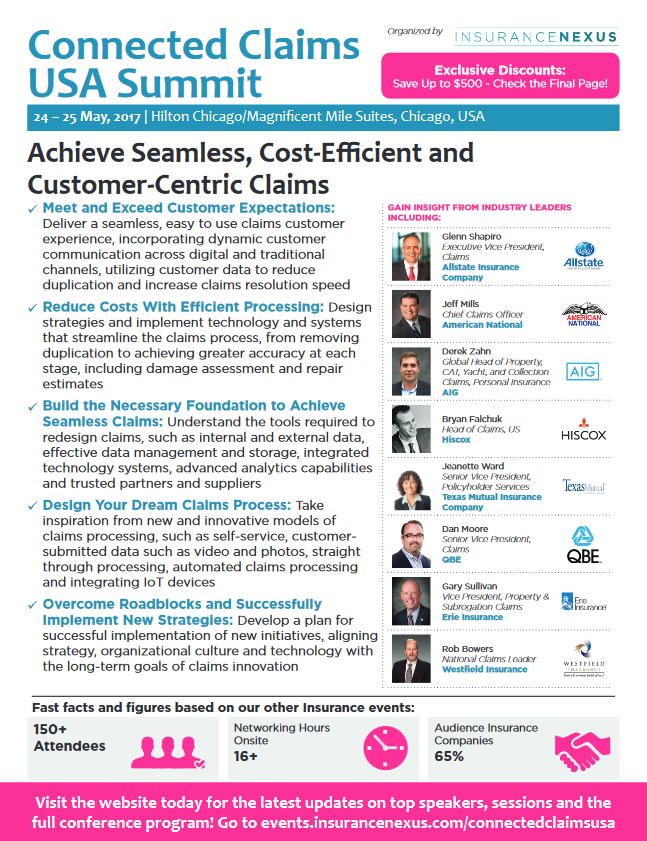 Please note that by downloading this brochure you also subscribe to receive similar information from Insurance Nexus