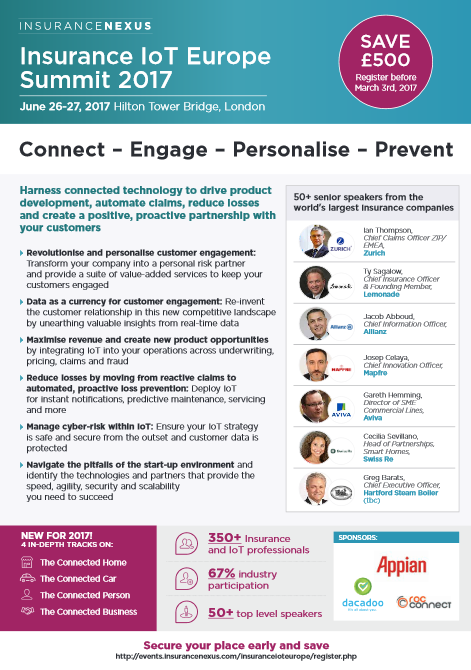 Don't just take our word for it, see what your peers had to say about last year's event…

"Insurance IoT Europe was a great event, bringing together industry representatives and high-techs and start-ups to discuss the vast changes in the industry and the opportunities that come with these changes" ROC Connect

---

"Top-level attendees and speakers, providing a top-level overview on IoT and how to use it" Groupama Assicurazioni

---

"The conference was efficiently scheduled, offering a great variety of speakers and the discussion stimulated was relevant and valuable" ReMark International

---

"A great meeting of insurance minds and leading technology experts. Great networking opportunity" USAA

---

"It was refreshing to be at a conference that will grow quickly. Reminds me of Telematics Update's events several years ago when the ground was still being broken"
Swiss RE

---
Please note that by downloading this brochure you also subscribe to receive similar information from Insurance Nexus
The Insurance IoT Europe Summit is now in its 2nd year and brings together innovation, strategy and product development experts from leading European insurers. Over 350 attendees are expected for this year's event!



Download the brochure for full event information >>



The 4-track conference will tackle the strategic issues around customer engagement, data ownership and cyber-security. Then we'll drill down into the various applications of IoT – the connected home, car, person, and a special look at commercial insurance.

A 2-day agenda designed to address the biggest challenges and opportunities around IOT – you'll find out how to:

Revolutionise and personalise customer engagement: Transform your company into a personal risk partner and provide a suite of value-added services to keep your customers engaged


Maximise revenue and create new product opportunities by integrating IoT into your operations across underwriting, pricing, claims and fraud


Utilise data as a currency for customer engagement: Re-invent the customer relationship in this new competitive landscape by unearthing valuable insights from real-time data


Reduce losses by moving from reactive claims to automated, proactive loss prevention: Deploy IoT for instant notifications, predictive maintenance, servicing and more


Manage cyber-risk within IoT: Ensure your IoT strategy is safe and secure from the outset and customer data is protected


Navigate the pitfalls of the start-up environment and identify the technologies and partners that provide the speed, agility, security and scalability you need to succeed
Check out the full agenda using the form on the right >>
Attend the biggest event in Europe for Insurance and IoT and hear from 50+ top-notch speakers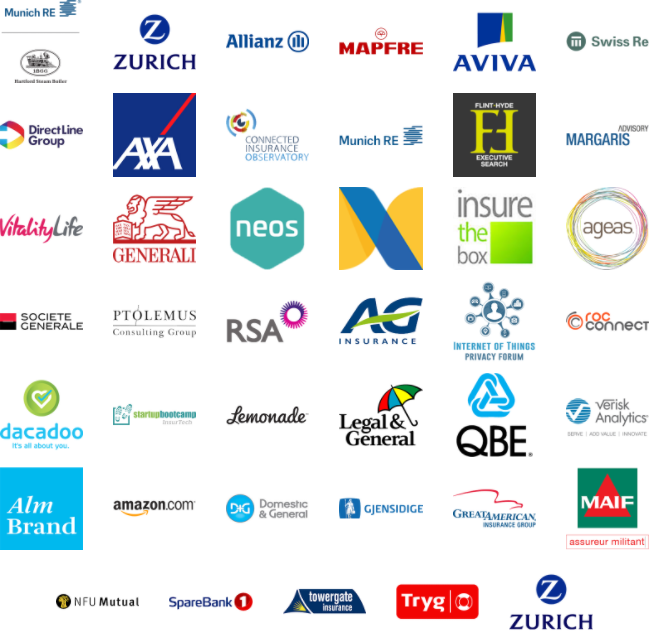 You'll get to hear from top-notch speakers, including:
Greg Barats, Chief Executive Officer, Hartford Steam Boiler
Ian Thompson, Chief Claims Officer ZIP/EMEA, Zurich
Jacob Abboud, Chief Information Officer, Allianz
Josep Celaya, Chief Innovation Officer, Mapfre
Ty Sagalow, Chief Insurance Officer, Lemonade
Daniel Knight, Chief Product Officer, Neos
Mark Evans, Marketing Director, Direct Line Group
David Williams, Technical Director, AXA Insurance
Kenny Leitch, Global Connected Insurance Director, RSA
To see the full list of speakers, download the brochure now >>
5 reasons this is a must-attend event for strategists and digital innovators in insurance
It's the biggest connected insurance event in Europe with 350+ attendees, 20+ sessions and 4 tracks: The sheer size of this event stimulates cross-pollination across lines of business and different applications of IoT


Delve into the area that suits your line of business – With tracks on the connected home, the connected person, connected car insurance and commercial insurance, you'll be able to examine the technologies and business models in your specific area of expertise


Share ideas with the brightest minds from the connected world: You'll rub shoulders with leading innovators, start-ups, directors and heads of R&D, strategy and innovation – these are the people who are transforming our industry


Guaranteed to deliver on learning and networking: You can trust Insurance Nexus. For over 5 years now we've been a hub for the highest echelons of the insurance industry


Get a pan-European perspective on disruptive technology: This is no means a London-centric event, last year we had attendees from 20 countries – so the networking opportunities are truly international

Download the brochure now using the form on the right >>

I look forward to seeing you in June!

Helen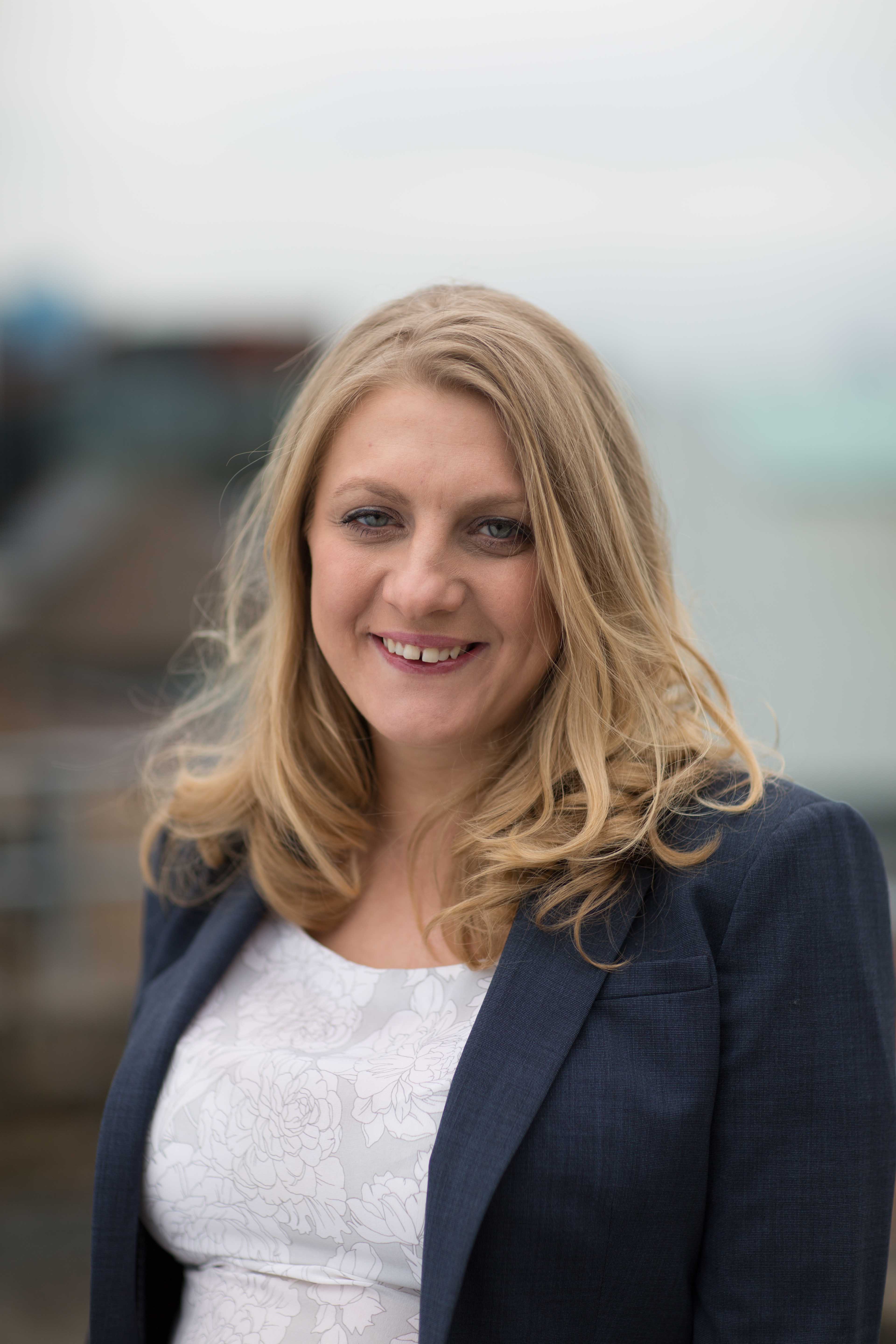 Helen Raff
Head of Content
Insurance Nexus
Tel: +44 (0) 207 375 7582
helen.raff@insurancenexus.com



Download your brochure Insurance IoT Europe Summit here
Download the Brochure for Insurance IoT Europe 2017!



Your e-brochure will include...

Full Conference Agenda
Complete Speaker line-up
Details on the Drinks Reception
List of Networking Opportunities
Just fill in your details to download now:
Insurance Nexus is a division of FC Business Intelligence Ltd, a registered company in England and Wales - Registered number 0438897. 7-9 Fashion Street, London, E1 6PX, UK. | Terms and conditions