The Insurance AI & Analytics Summit brings together data, analytics, pricing and marketing experts from leading European insurers. Over 200 people attended last year and – with a new focus on AI and machine learning - we're predicting 250+ for 2017.

The event will tackle how to transform your business from the inside, out. You'll explore how advanced analytics, automation, AI and machine learning are going to impact insurance, and come away with the knowledge and tools you need to create a truly modern insurer. Specifically, you'll delve into structuring analytics internally, getting your data in the right format and discover how to get the ball rolling with machine learning.

To be the first to see the list of speakers, complete your details in the box on the right and receive the updated conference brochure >>

A two-day agenda designed to tackle the biggest issues in analytics and AI:

Use AI and machine learning to drive operational efficiencies, reduce turn-around times, lower costs and improve productivity


Learn how to structure your business so you're ready for the next-generation of analytics and machine learning and discuss the pros and cons of de-centralised analytics


Hear incremental steps to get the ball rolling on your AI projects: Build a strong foundation by getting your data in the right place and in the right format, get your workforce on board and develop proof of concept models


Use unstructured data from non-traditional sources, like social media, images and videos, to analyse customer needs, inform product design and make sure you're prepared for the AI revolution

Request the updated event brochure now for more information >>
Plus, our in-depth break-out workshops allow you to examine the evolution of analytics and AI in core departments:
Improve Product Design & Customer Experience: Enhance the customer experience using chatbots and roboadvisors, and put contextual, personalised products in front of your customers


Create Competitive Underwriting & Pricing: Explore new tools and techniques to optimise price, in real-time at the point of sale


Fast-Track Claims: Get practical examples of deploying machine learning to automate the claims process; use images, sensor data and historical data to assess severity and predict repair costs


Mitigate Against Fraud: Discover how to combine analytics, neural networks and machine learning to spot fraud earlier and allocate resources more efficiently
To receive a copy of the final agenda, download the updated brochure now >>
Attend the biggest event in Europe for Insurance and AI and hear from 30+ top-notch speakers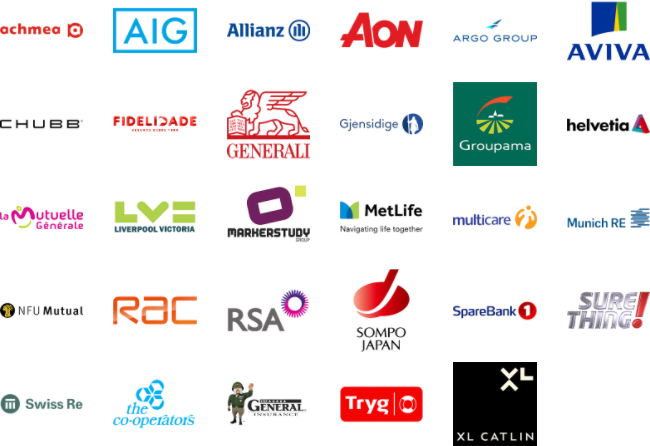 You'll be able to view our detailed 2-day agenda...
Relevant and Targeted Insights for YOUR Role & Priorities: You'll examine the evolution of analytics and AI in the specific areas of product design/customer experience, underwriting/pricing and claims/fraud.

Industry Innovation and Strategy: Keep up to date with this fast-paced industry, with exclusive insights on the hottest trends and technology influencing insurance


Practical Tools to Turbocharge Your Analytics Capabilities: Get insider knowledge on how to ensure your analytics is fulfilling its potential – every little edge counts as a competitive advantage


Unparalleled Speaker Line-Up: Bringing together the innovator and industry leaders to provide delegates with best-practice and innovative strategies


Turbocharged Networking: In the largest European gathering of insurance analytics executives and AI trailblazers - this is THE best place to meet your peers and build your network
Enter your details on the right to reserve the updated brochure and get a full run-down of speakers >>
Download the brochure now and you'll read about our:
Cutting Edge Industry Case Studies: Uncover the key issues and opportunities for analytics across both personal lines and commercial insurance


250+ Executive Attendees: Discover the senior leaders who will be joining European biggest forum for insurers to debate data


Networking Opportunities: Get a sneak preview of the awesome networking activities from roundtables, workshops and drinks parties!

Check out the updated brochure now for a full list of speakers >>

Please let me know if you have any feedback, or if you want to get involved with the event.

Contact:


Reap the rewards of AI for Insurance – Get the newly released brochure right here!

Please note that by downloading this brochure you also subscribe to receive similar information from Insurance Nexus

Insurance Nexus is a division of FC Business Intelligence Ltd, a registered company in England and Wales - Registered number 0438897.
7-9 Fashion Street, London, E1 6PX, UK. | Terms and conditions
Get the NEWLY RELEASED brochure here now


Enter your details below and you'll get sent the new brochure, hot of the press, with details of new speakers, new sessions and new partners