Embed Speed & Accuracy for Cost-Efficient and Customer-Centric Insurance Claims
The pressure to deliver both operationally efficient claims processes whilst simultaneously enhancing the customer experience can be daunting.

Customers want dynamic, real-time updates on the digital communication portal of their choice, automation and straight-through processing are being deployed to save money and "do more with less" is the name of the game.

Which is why Connected Claims USA is bringing together claims visionaries and leaders - to gain inspiration and tools for immediate implementation from innovative insurance case studies.

This means you will walk away with a list of both the critical things you and your organization need to do, and more importantly, how to design and implement these changes.

Request your event brochure to stay in the loop with event developments >>>>

Featuring a Speaker Line-Up Full of Insurance Leaders and Innovators, Including: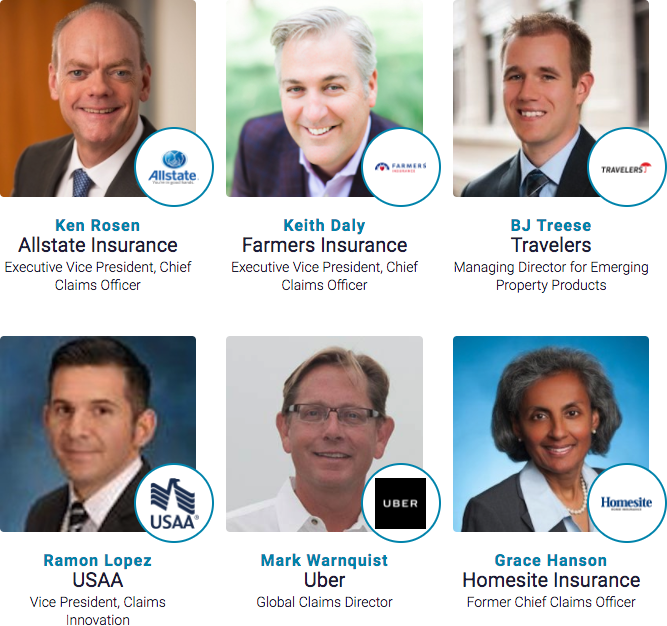 Request your event brochure to stay in the loop with event developments >>>>

A two-day agenda designed to capitalize on the biggest opportunities in claims innovation and technology:
Meet and Exceed Customer Expectations: deliver a seamless, easy to use claims customer experience, incorporating dynamic customer communication across digital and traditional channels, utilising customer data to reduce duplication and increase claims resolution speed


Reduce Costs Through Efficient Processing: design strategies and implement technology and systems that streamline the claims process, from removing duplication to achieving greater accuracy at each stage, including damage assessment and repair estimates


Build the Necessary Foundation to Achieve Seamless Claims: understand the tools required to redesign claims, such as internal and external data, effective data management and storage, integrated technology systems, advanced analytics capabilities and trusted partners and suppliers


Design Your Dream Claims Process: take inspiration from new and innovative models of claims processing, such as self-service, customer-submitted data such as video and photos, straight through processing, automated claims processing and integrating IoT devices
Request your event brochure to stay in the loop with event developments >>>>

Delegate Snapshot: Who's Already Confirmed to Attend:

Insurance Nexus is part of FC Business Intelligence Ltd. FC Business Intelligence Ltd is a registered company in England and Wales. Registered number 04388971, 7-9 Fashion Street, London, E1 6PX, UK

Insurance Nexus is the central hub for insurance executives. Through in-depth industry analysis, targeted research, niche events and quality content, we provide the industry with a platform to network, discuss, learn and shape the future of the insurance industry.


Chief Claims Officer
Vice President Claims
Head of Digital Innovation
Vice President, Claims Operations
Director, Property Claims
Head of Auto Claims
Director, Claims Innovation & Customer Experience
Chief Information Officer
Executive Vice President, Service


Director, Claims Vendor Management

Request your event brochure to stay in the loop with event developments >>>>

Why You Cannot Afford to Miss the Largest Claims Innovation Conference in the World

Connected Claims USA is the only event focused on the future of claims and providing practical strategies to achieve seamless, cost-efficient and customer-centric claims:

Walk Away with Step by Step, Practical Strategies: Get tools, tips and tricks from case studies across the industry for immediate implantation in your organization, from setting your strategy to successful operationalization of claims innovation


Learn from the Best in the Industry: Bringing together the innovators, industry leaders and leading insurance carriers from across the country to provide you with best-practice and innovative strategies


Keep Up to Date on the Future of Claims: Don't get left behind – know what is going on with the latest start-ups, opportunities presented by new technologies entering the market and benefit from blue sky ideas from across the insurance industry


Meet Valuable Contacts to Grow Your Network: Between the Brella networking app, more hours of networking and interactive discussions built into the agenda to find like-minded individuals, this is the best place to meet your peers and build your network


Reimagine Your Future - What New Tech is Making Possible: Onsite will be some of the best tech minds of the business, ready to help you identify key areas to optimize claims, including drones, IoT, automated processing and artificial intelligence
Request your event brochure to stay in the loop with event developments >>>>

Join this Unparalleled Networking Opportunity as Claims and Technology Come Together

Relevant for personal lines, commercial and health insurance carriers, this event will be attended by regional, national and international insurers.

This summit is a must-attend event for those charged with transforming claims, including executives responsible for customer experience, operational efficiency, technology and claims processing.

Who You'll Meet:

In attendance will be the C-Suite, SVP, VP, AVP and Heads of:

Claims, Claims Operations, Claims Processing, Claims Management, Claims Services
Strategy, Executive, Transformation, Innovation, Change Management
Customer Service, Customer Experience, Digital, Customer Contact
Operations, Business Process, Business Architect
Technology, Automation, IT, Systems
Data, Analytics, Modelling, Analysis, Business Intelligence
IoT, Wearables, Drones, New Technology
Fraud, Special Investigations, Fraud Analytics
Request your event brochure to stay in the loop with event developments >>>>

Kind regards,
Emma
Request your Connected Claims USA Summit brochure and get updates as the event develops.

Just fill in your details to download now:

Don't just take our word for it, here are some testimonials from our Insurance events:


---
"We hear the buzzwords every day - AI, IoT, Chat Bots, Blockchain, Drones, Big Data. We think this stuff is coming. Through the presentations and discussions, we learned clearly that it's here, but also what to do about it. We have to transform as an industry, and I feel much better prepared to do that after attending The Connected Claims Summit."
Hiscox USA


---

"This event is much needed for Claims."
Farmers Insurance


---

"The Connected Claims Summit is a fantastic way to benchmark our company's performance against the top performers in the insurance industry. There are valuable takeaways in every session."
Berkshire Hathaway Travel Protection


---

"By far, this was the most informative conference I've attended all year! Excellent speakers, content and agenda... I will definitely be back next year. If you're looking to network with who's who and who's in the know then this is a conference for you!"
National Insurance Housing

---
"The energy from the attendees was excellent. Great speakers and ideas about innovation."
Assured Relocation


---

"The Connected Claims USA summit was a solid, well attended event, with many perspectives, interactive sessions and great information regarding both the current state and the future of our industry. I hope to see more events like this in the future, and will definitely be attending the next one."
Accelerated Adjusting


---

"First and foremost, I really enjoyed the fact that Connected Claims USA was claims technology and process-focused. I was thoroughly impressed with the quality of claims and claims technology leadership that led provocative discussions throughout the two days of the event."
Claimatic