Unlock The Value Proposition For Connected Insurance
Insurance Nexus is a division of FC Business Intelligence Ltd, a registered company in England and Wales - Registered number 0438897. 7-9 Fashion Street, London, E1 6PX, UK. | Terms and conditions
The Connected Insurance Summit Europe (June 11-12, London) is THE premier business gathering for innovation, product and strategy leaders, who are pioneering connected products and services for insurance.


With 250+ attendees in 2017 and 300+ expected in 2018, the Connected Insurance Summit Europe is THE premier business gathering for innovation, product and strategy leaders, who are pioneering connected products and services for insurance.


3 reasons this is a must-attend event for strategists and digital innovators in insurance
Focus On The Business Case: We know what the tech can do, but what's missing is the formula to unlock commercially viable value propositions for your customers. With a full 2-days spotlighting the critical business issues for connected insurance, you'll leave with a practical roadmap for tech-enabled product and service transformation
More Depth and More Detail: We're delving further than ever before into the value proposition for each of the business lines. With focused workshops for auto, home, health/life and commercial, we'll provide step by step case studies and how-to knowledge from the experts in every major line
Written by Insurance Carriers, For Insurance Carriers: In a sea of insurtech events, we're narrowing in on what the connected revolution means for traditional carriers, but with out of industry speakers and insurtech disruptors joining the event, expect to break out of your comfort zone


Featuring a Speaker Line-Up Full of Insurance Innovators, Including: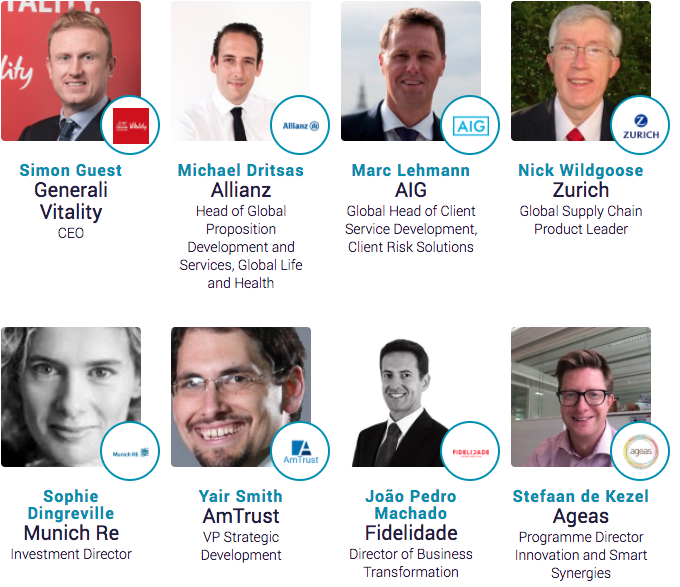 Get Exclusive Insights On
Create A Value Proposition Beyond Core Protection: Reimagine traditional risk-based coverage, refine your risk prevention strategy, and diversify your offering through personalised, relevant and compelling non-traditional insurance services
Deliver Exceptional Experiences That Your Customers Want To Pay For: Enter the everyday lives of today's connected customers, get to know them and their habitats well, get to grips with their pain points, and develop a compelling value proposition that wins new business and cultivates loyalty
Lead Proactive Partnerships That Align Interests To Deliver Better Products And Services Than Each Partner Can Offer Alone: Confront the challenge of new entrants to the insurance market head-on, align interests to get your partnership strategy right, and foster powerful multi-industry partnerships that establish new and robust revenue streams
Transform Your CEO Into An Innovation Ambassador And Drive Cross-Enterprise Commitment That Guarantees To Impact The Core Business: Build an innovation culture that tackles inertia, amplify the business case to get buy-in from the board and business units, and nurture multi-functional project teams that bring the whole company along with you


Why You Cannot Afford to Miss This Industry Leading Conference:
Walk Away with Step by Step, Practical Strategies:With unrivalled insurance case-studies, this event gives you tools, tips and tricks for immediate implementation, from setting your strategy to successful operationalization
Learn from the Best in the Industry:Bringing together all of the leading insurance giants from across Europe, this conference provides you with access to best-practice strategies from your industry peers
Keep On Top of Insurance Innovation:Don't get left behind - know what is happening with new entrants and new technologies disrupting the market, and benefit from blue sky ideas from across the insurance industry
Meet Valuable Contacts to Grow Your Network:With more hours of networking, interactive content, and a dedicated Brella lounge, this summit is the best place to meet your peers and build your network
Reimagine Your Future - What New Tech is Making Possible:Onsite you'll find some of the best tech minds in the business, ready to help you to develop a value proposition that leverages the latest connected technologies, including IoT, artificial intelligence, and blockchain


I hope the brochure is useful but please do get in touch if you have any questions.
Warm regards,
Download your Connected Insurance Summit Europe 2018 (June 11-12, London) brochure and get updates as the event develops.



To be sent the full event details, including the agenda, speaker line-up, exclusive discounts and how to get involved, download your brochure now.

Just fill in your details to download now: