Insurance AI – The Roadmap to Impact
Understanding where and how AI will impact insurance is crucial to deliver growth and true business value.

As carriers race to meet customer demands and drive business efficiencies, having a clear vision of where
key investments should be placed and where they can expect maximum ROI it is vital for the business.

Which is why we recently asked Blue Cross and Blue Shield, Zurich North America, CCA Global Partners and Unum Group about their AI plans for 2020 and which steps they are taking today to achieve this vision.

Find out directly from insurance leaders in this newly released whitepaper.



Access the paper now using the form on the right >>



By reading the whitepaper you'll get unique insights into:

Exactly where and how AI is impacting insurance: from automating the underwriting processes and improving customer experience to delivering a seamless claims experience


The impact on talent and workforce effectiveness: compare examples from leading carriers and evaluate how AI can assist your staff, transform the make-up of your workforce and change skillsets


Deliver growth today and position for future success: balance company efficiency and effectiveness with AI and process automation, unlocking cost savings opportunities whilst still delivering customer-centric innovations
Access the paper now using the form on the right >>
You'll get exclusive insights directly from these innovators and strategists: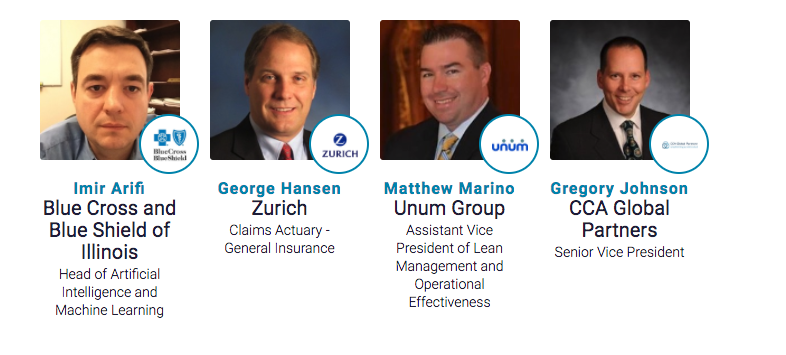 Access the paper now using the form on the right >>



Quick Preview of 'Insurance AI – The Roadmap to Impact' Whitepaper





"Today, AI is a roadmap. It is the very practical use of technology for the simplification and automation of processes, leveraging some defined rules around the overall business"


- George Hansen, Claims Actuary, General Insurance, Zurich North America





"There are some organizations in insurance that will be more ready for AI than others and it's the ones with the ability to harness data and leverage skilled engineers, programmers and automated platforms"


- Imir Arifi, Head of Artificial Intelligence and Machine Learning, Blue Cross and Blue Shield of Illinois





"A significant amount of underwriting will be automated – with exceptions. But in general, they have the perfect infrastructure to move into AI – it's all codes and decision criteria"


- Matthew Marino, Assistant Vice President of Lean Management and Operational Effectiveness, Unum
Group



"The big deficit that's not being addressed is using AI and InsurTech to make the connection between insurers' existing book of business and the next generation. With advances at organization level, how do we make sure the grandchildren of our existing clients become our customers."


- Gregory Johnson, Senior Vice President, CCA Global Partners

Access the paper now using the form on the right >>


I hope you enjoy the whitepaper!


Kind regards,
Mariana





Insurance Nexus is part of FC Business Intelligence Ltd. FC Business Intelligence Ltd is a registered company in England and Wales. Registered number 04388971, 7-9 Fashion Street, London, E1 6PX, UK

Insurance Nexus is the central hub for insurance executives. Through in-depth industry analysis, targeted research, niche events and quality content, we provide the industry with a platform to network, discuss, learn and shape the future of the insurance industry.


Download the Whitepaper: Insurance AI – The Roadmap to Impact
You'll get the full whitepaper with valuable insight including exclusive thoughts from:
Blue Cross and Blue Shield of Illinois
Zurich North America
CCA Global Partners
Unum Group
Enter your details below and get sent a link to the whitepaper immediately.