Join AI Pioneers and Insurance Innovators

For a detailed agenda, check out the brochure now, using the form on the right >>
The Insurance AI & Analytics Summit, on June 27 – 28 in Chicago, brings together data, analytics, underwriting, claims and marketing experts from leading insurance carriers. Over 150 executives have confirmed their place already!

At the Insurance AI & Analytics USA Summit, you'll be able to build a roadmap for launching AI and machine learning across your business and most importantly, integrate machine learning and AI to work with existing processes. This means you will walk away with a list of both the critical things you and your organization need to do, and more importantly, how to design and implement these changes.
Just remember – this is the only event of its kind and by attending you'll get a tremendous head-start on competitors in terms of learning and networking when it comes to AI.
For a detailed agenda, check out the brochure now, using the form on the right >>
A two-day agenda designed to tackle the biggest issues in analytics and AI:

From insights to impact: bridge the gap between tech and business needs to achieve growth. Hardwire insights into the core business functions including pricing, marketing, claims and underwriting


Take your AI plans off the ground: build the foundation to deliver future-proof AI and Machine Learning across your organization. Develop a robust business intelligence infrastructure and achieve data integrity and a 360-view of the customer


Discover exactly where and how AI is impacting insurance: from automating the underwriting processes and improving customer experience to delivering a seamless claims experience


Create business efficiencies: discover which processes can be quickly automated to deliver immediate gains to the business. Use new technologies such as chatbots to improve productivity and reduce human errors


Deliver seamless and connected customer experience: transform your marketing, sales, operations and claims to meet and exceed customer expectations
For a detailed agenda, check out the brochure now, using the form on the right >>

Featuring a Speaker Line-up of AI Pioneers Including: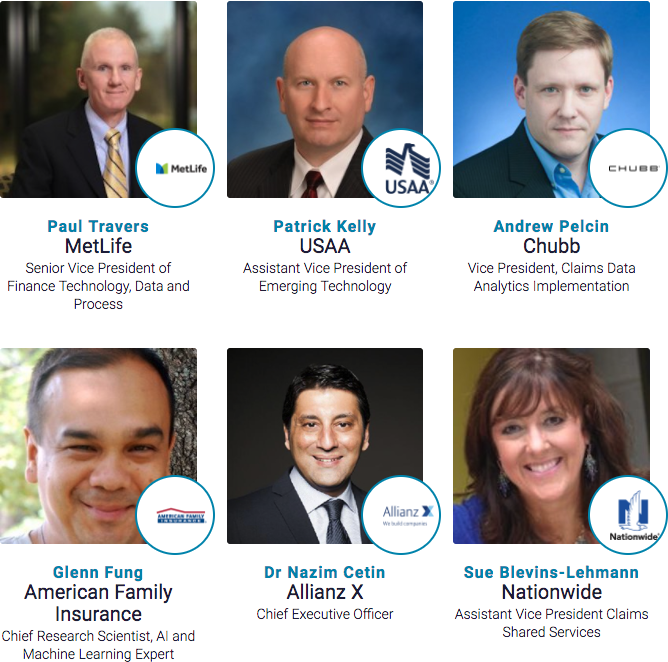 For a detailed agenda, check out the brochure now, using the form on the right >>

Plus, our in-depth break-out workshops allow you to examine the evolution of analytics and AI in core departments:
Improve Product Design & Customer Experience: Enhance the customer experience using chatbots and roboadvisors, and put contextual, personalized products in front of your customers


Create Competitive Underwriting & Pricing: Explore new tools and techniques to optimize price, in real-time at the point of sale


Fast-Track Claims: Get practical examples of deploying machine learning to automate the claims process; use images, sensor data and historical data to assess severity and predict repair costs


Mitigate Against Fraud: Discover how to combine analytics, neural networks and machine learning to spot fraud earlier and allocate resources more efficiently
For a detailed agenda, check out the brochure now, using the form on the right >>
Kind regards,
Mariana

Insurance Nexus is part of FC Business Intelligence Ltd. FC Business Intelligence Ltd is a registered company in England and Wales. Registered number 04388971, 7-9 Fashion Street, London, E1 6PX, UK

Insurance Nexus is the central hub for insurance executives. Through in-depth industry analysis, targeted research, niche events and quality content, we provide the industry with a platform to network, discuss, learn and shape the future of the insurance industry.


Insurance AI & Analytics USA Summit (June 27th & 28th, Chicago) is the largest insurance analytics conference in North America!

Check out the snapshot delegate list below to see who has already secured their spot:

If you are interested in joining us, enter "KDNuggets" to save $200 when you register online

Download Delegate List

Check the delegate snapshot to see who's joining already!

Request your AI & Analytics USA Summit brochure and get updates as the event develops.


This is North America's leading AI meeting dedicated 100% to insurance and comprises:
350+ attendees
30+ speakers
3 in-depth business cases tracks
20+ hours of networking
Just fill in your details to download now:

________________________________________



Here's what our attendees have to say:

"A great meeting of insurance minds and leading technology experts. Great networking opportunity."
USAA
________________________________________

"We hear the buzzwords every day - AI, IoT, Chat Bots, Blockchain, Drones, Big Data. We think this stuff is coming. Through the presentations and discussions, we learned clearly that it's here, but also what to do about it."
HISCOX, USA
________________________________________

"By far, this was the most informative conference I've attended all year! Excellent speakers, content and agenda. I will definitely be back next year!" – National Insurance Housing
________________________________________

"The energy from the attendees was excellent. Great speakers and ideas about innovation."
ASSURED RELOCATION

________________________________________

"Happy to be a part of this first ever event for the insurance industry. Good call about the meeting!" – Genpac