Turning Data to Analytics to AI

A new wave of disruption is approaching: AI and machine learning are proving to be the only methods in which organizations will meet customer demands at scale.

The pressure to simultaneously deliver immediate business value from analytics whilst also upgrading your tech, data and culture to deliver game-changing insights can be daunting. The time to act is now!

Which is why the Insurance Analytics Canada Summit is bringing together the industry's heavyweights to discuss how AI and advanced analytics can be utilized to deliver unparalleled performance, business growth, and truly actionable insights.



An Unrivalled Speaker Line-up:




Join Two Days That Will Change Your Team & Business, Including:

Hardwire Actionable Insights to Supercharge Performance: Integrate analytics seamlessly into core business functions to accelerate underwriting, boost customer acquisition and fast-track claims
Advance Your Analytics Capabilities: Discover the recipe you need to move from descriptive to predictive analytics and ultimately establish a foundation for AI, from data structure and technology frameworks to talent
Beat Your Competition with an Outstanding Customer Experience: embed analytics to deliver personalized products and services with IoT, incorporate omnichannel communication and truly engage your customers to stand out in a competitive marketplace
Strategies for Attainable, Agile Analytics Transformation: How to deploy new initiatives seamlessly: gain enthusiastic stakeholder buy-in, demonstrate quick wins to secure additional investment and integrate new tools with existing processes for immediate adoption
Create business efficiencies: discover which processes can be quickly automated to deliver immediate gains to the business. Use new technologies such as chatbots to improve productivity and reduce human errors

Insurance Carriers and Digital Innovators Attending Insurance Analytics Canada 2018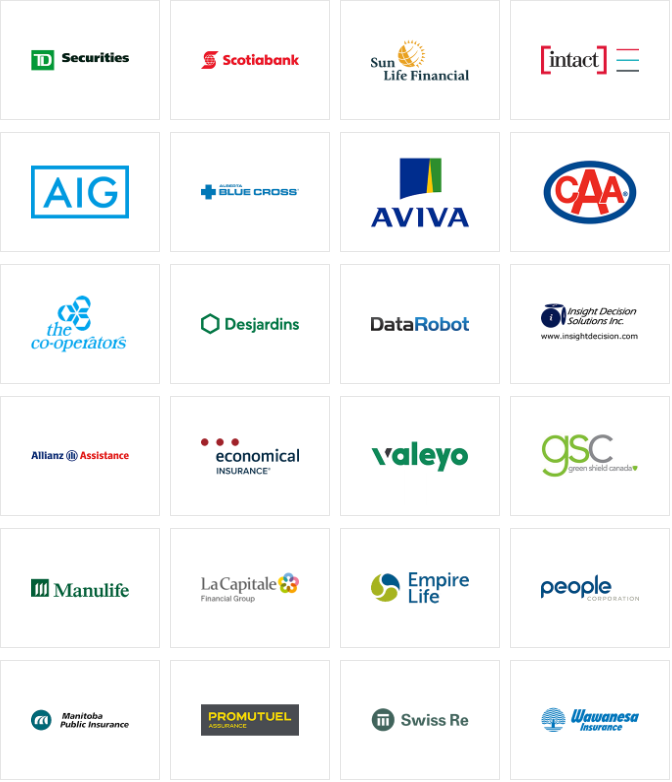 Be a part of the movement that is transforming the insurance industry – 5 reasons you MUST attend:
Move beyond the hype! Hear case studies direct from executives at the forefront of technology implementation and get key insights into what's worked and the challenges faced


Learn from the best in the industry: Bringing together the innovators, industry front-runners and leading insurance carriers from across Canada to provide you with best-practice and ground-breaking strategy


5 in-depth break-out tracks: Exclusive practical cases studies track exploring where and how advanced analytics, automation, AI and machine learning are going to impact insurance, so you can walk away with the knowledge and tools you need to create a truly modern insurer


So much more than a conference - a real insurance community coming together. With more hours of networking and interactive discussions, and exclusive insurance carrier c-suite networking area and a the most prestigious insurance awards in the region, this summit is the best place to meet yours peers and build your network


Get ready to build the insurance ecosystem. Onsite will be some of the best tech mind in the business, ready to help you develop a strong analytics core that leverages the latest cognitive computing technologies, including AI and machine learning

Be a part of the movement towards an AI-driven future!
300+ peers and colleagues to build your network: Benchmark, debate and learn from the best minds in insurance
5 in-depth streams in one: Exclusive insights on the 5 core pillars of insurance. Deep dive on one topic or customize your experience with sessions from each stream.
35+ expert speakers sharing insights: You simply will not find a stronger collection of in-house insurance expertise anywhere else
20+ practical case studies: Get the tools and strategies to equip you with the skills and insights to flourish in the year ahead
Save weeks of work: Get more insights in two days than weeks of market research and competitive benchmarking

Kind regards,
Mariana
Insurance Nexus is part of FC Business Intelligence Ltd. FC Business Intelligence Ltd is a registered company in England and Wales. Registered number 04388971, 7-9 Fashion Street, London, E1 6PX, UK
Terms and conditions | Privacy Policy

Insurance Nexus is the central hub for insurance executives. Through in-depth industry analysis, targeted research, niche events and quality content, we provide the industry with a platform to network, discuss, learn and shape the future of the insurance industry.
Download your Insurance Analytics Canada brochure:
Complete your details below to receive the full 10 page event brochure, including:
Complete agenda and key themes to be discussed
Delegate snapshot (over 100 delegates already confirmed)
Networking opportunities throughout the two days
Information on registration discounts and pricing
Who'll be attending, why people choose this summit, and who you can expect to meet
Exclusive access to all AI and analytics content, including whitepapers, webinars, speakers interviews and more
Just fill in your details to download now:
The most crucial two days out of the office this year!

Here's what insurance leaders have to say about this event:



"This is a great event that allows many great discussions with major actors of the industry"
SIMON DESCHATELETS, LA CAPITALE

"Biggest insurers were here! Inspiring for us"
MARC MORIN, IA FINANCIAL

"In terms of business opportunities, one of the best all time shows! A fantastically well-organized event"
MARC CURTIS, AGSI

"The event was crucial to understand what my peers in the industry were doing. Presentations were excellent!"
SHEEBA MATTEW, DESJARDINS